FAQ
Can I use a PCI graphics card?

If your graphics card has a driver for Windows XP, it is quite possible that you will be able to use this card for organizing the multiseat system.
How computing resources will be shared among the seats?
In case of computer based on multicore processor, CPU load will evenly shared among all its cores. In case of computer based on single-core processor, processor time will evenly shared among all users.
How can I see the system work in real life?

You are free to install and configure Friendly Seats on your computer. We tried to make the program as simple and intuitive as possible. The procedure of installation and configuration is described in detail in

documentation

. Also, we created a special

video tutorial

about configuring and working with Friendly Seats, so you can see everything with your own eyes.
Is it possible to assign each seat a separate IP-address?
You can assign custom IP-address to every seat. This will allow to run network applications at each seat as if they run on single-user PCs. With Friendly Seats you can organize the network game as between seats on one machine, and between separate computers in the network. Also possible to play in the Internet.
How to count internet traffic?
You can easily count the internet traffic consumed by users at their seats by IP addresses assigned to corresponded seats. Since the Friendly Seats software is compatible with Network Administrator software, you can use all its features for sale Internet access.
| | |
| --- | --- |
| | |
Can I run multiple games on multiseat system?
It is no fundamental limitations to launch simultaneously several computer games on multiseat system. We only recommend running 3D-games on the seats, which are connected to a separate graphics card. Not every 3D-game requires such approach, for example, the game Counter-Strike normally works on the seats that connected to a same graphics card. The program supports parallel operation of the game Counter-Strike simultaneously on multiple seats. In particular, we have successfully tested such versions as: Counter Strike 1.5, Counter Strike1.6, Counter Strike Source. For a reliable and stable work of 3D-Game it is recommended to use a graphics card based on NVidia GPU.
| | |
| --- | --- |
| | |
What about the sound card for 2,3, ... seats?
If you use one sound card (for example, internal sound card on motherboard), sound from seats of all users will be forwarded through a common sound card. If you connect multiple sound cards, for example, by USB interface, then each user will be able to assign an individual sound card for each seat. This setting can be done in the "Sound settings" applet in "Control Panel" window.
We sell a cheap USB sound cards (see photo below). The cost of each is only $10. Please, order them now by sending us a request:
http://www.friendlyseats.com/contacts
Technical parameters:
Virtual surround processor

(5.1 simulation)

USB 2.0 data interface

Powered by USB,

no additional power is needed

There is a 3.5 mm input and output for stereo headphones and microphone

Support OS Windows 98SE/ME/2000/XP/2003/Vista/Linux/Mac

Does not require special drivers (drivers will be installed automatically when using modern operating systems)
| | |
| --- | --- |
| | |
Does multi-user system with Friendly Seats compatible with management software for computer clubs and Internet cafes?

Friendly Seats software is fully compatible with the program Network Administrator v 6.6.2 and later. Going to meet numerous requests from our customers, we decided to specialy cooperate with the authors of the Network Administrator software in order to ensure its compatibility with Friendly Seats. For now you can use Network Administrator to track and control each seat as a single computer (set a time, block, unblock machine, count Internet traffic, etc.)
Can I watch movies and play games simultaneously?
Yes, you can simultaneously watch movies and play games. Note that in order to be able to output sound from films and games separately it is required additional sound card. Given that prices on sound cards are currently low (about $10), it will not be a problem. For a reliable and stable work of 3D-Game it is recommended to use a graphics card based on NVidia GPU.
What hardware do I need for organization of 8 seats?
We tested the program Friendly Seats in the mode of 8 seats on a computer that has this configuration:
CPU: AMD Phenom II X3 720
Motherboard: MSI 790FX-GD70 (socket AM3)
Memory: DDR3 1333 4 GB
Graphics cards: NVidia GeForce 9400GT 512MB (4 pcs.)
HDD: Western Digital WD5001AALS-00L3B2 (500 GB)
Power supply: 750 W
In addition, we bought: USB-PS/2 adapters, VGA cables with 3 m length, active USB-hubs with 7 ports each and USB-cables.
Would the antivirus software work stable on seats?

In our multiseat system, work of antivirus software on each of the seats did not differ from work on single-user computer. The system runs a single common core antivirus and one client interface for each seat. For the client side anti-virus, it looks as though it works on single-user computer. File sharing is managed by operating system in normal mode.
| | |
| --- | --- |
| | |
What is a USB graphics card?
USB graphics card — is a relatively small device that connects to a USB 2.0 port. You can connect to it an additional monitor, eliminating the need for installing additional expansion cards in a PC base unit. On market is also present USB-monitors (eg, Samsung), which do not need a graphics card at all, they connect directly to USB-port.
And recently became available and quite exotic device - a wireless USB graphics card. Data transmission in this case will be implemented through a wireless interface USB, and the radius of the built-in adapter makes up to three meters. Users will be able to organize a wireless connection to a personal computer to six monitors at once, but in this case, gamers are unlikely to be satisfied with the picture quality, but for office work, it will be quite enough.
You can buy a wireless keyboard and mouse, to completely remove the wiring and get all benefits of mobility.
| | |
| --- | --- |
| | |
How do I know the Hardware ID of my computer, which is required for buying the full version?
You can get the Hardware ID in the following way:
1. Install FriendlySeats Demo on the target computer
2. Launch FreindlySeats Demo from the desktop shortcut
3. Press the "Settings" button. (1)
4. You will see the Hardware ID (2) in the Settings window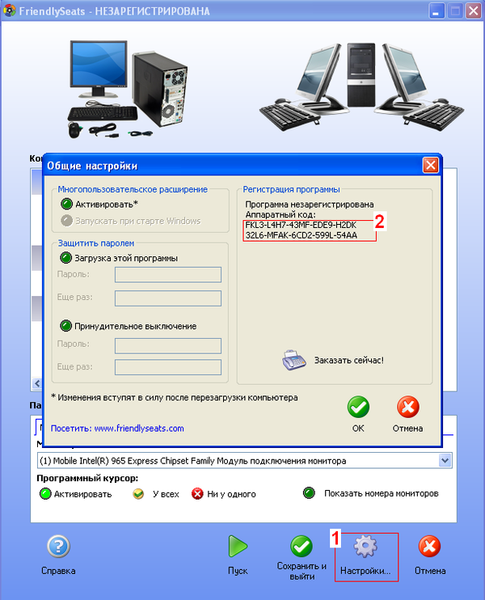 | | |
| --- | --- |
| | |
Is it possible for me to get a 4-user demo version?
I want to try friendlyseats in our office.
I want to first use a 4-user version (since Our present Hardware is capable of this only)
We would like to tryout this for 2-weeks, and if found suitable, we will go for a 8-user version, and buy New Hardware for this.
Is it possible for me to get a 4-user demo version for 2-weeks.And if you do not have a 4-user Demo, and I purchase one, will it be possible to moving the Solution and upgrade to a 8-user version, after about 3 weeks on a NEW hardware OR return the Solution if not found to be performing as per our requirements.
Santosh Sarwate
(e-mail was corrupted, please read answer here)
Yes you can get 2-weeks demo-version for 4-seats.
For getting demo-version, please, fill out the form here.
(in field "Additional information" specify the following: "demo version for 2-weeks")
In case of buying of 4-seats license you can upgrade your license to bigger number of seats later. You will only need to pay the difference in price for 4 and 8 seats version.
<< Start < Prev 1

2

Next

>

End

>>


Page 2 of 2